For the Past Summer, here are the books I've read (re-read) and actually finished.
These books are read in order depending on various trips I've had. In Boracay of April 2009, it was
Joshua Ferris'
modern-office satire
Then we Came to the End
.
Purchasing this book is a story on its own
. But the experience reading it was fun. This book reminded me of my demons in the office. The book tells the professional lives of bold and dynamic characters that I can't help but relate to. It offers lessons and satirical moments on how to deal with office politics and relationships that make work either stressful or colorful. This is the voice of my generation.
The Guardian

by Nicholas Sparks
was the book I read on my next trip to Cebu-Bohol of May 2009. Initially, this should have been the first ever Nicholas Sparks book I planned to read. The planning was intense since I bought this copy last December 2008 on my way to a dinner party. But the actual decision dawned on me earlier in August 2008 when I went with my friends to Tagaytay for a wedding. My friend
Caan
was reading it and recommended it amongst all Nicholas Sparks books. Although not really a fan of him, I decided to take a leap and try. In between those dates, I bought a Rearder's Digest Condensed book and came across
The Bend
,
which he also wrote. At that time, I was itching to read something light after a series of jaded stories. So the Guardian ended up to be the second book I read by Nicholas Sparks.
I have to say I liked The Bend better
. I just couldn't relate to
The Guardian.
Except for the immense love of the character to her dog, there is too much loss and relationship drama that is too high school for my taste. The psycho element added to it was cheesy. For now, I'm having a Nicholas Sparks hiatus.
The third book was by
Khaled Hosseini,
the best selling author of the
Kite Runner
,
which I love. Of all the books I've read this summer, I had the highest expectations for this one. I read this on my
Camiguin Trip on May- June 2009 a
nd I finished it earlier than intended. A
Thousand Splendid Suns
brings me back to the torn architecture of Afghanistan, specifically emphasizing the role of women in the family and social structure of this country.
As a woman, I couldn't help but feel sad, angry and distraught about how women are maltreated and subject to subordination against most men of Afghanistan. It must have been their adherance to their culture and social teachings, but it made me realize how much sacrifice and sufferings a woman could endure in her lifetime. The simplicity of a woman is very touching, yet her strength and will to survive moved me completely. Khaled Hosseini successfully described the situations that is visually imprinted in my mind as I read. Every retribution the character goes through spurted up an excitement in me. Every tragedy makes me feel thankful for my life. Every hope a woman faces in adversity also brings me inner hope. I thought, this couldn't have been fiction. It was like watching a documentary in my head. This is one of the truest stories I've read and should be read by all especially women.
These three marked my summer readings. There are also notable titles I've tried to read, but didn't actually finish because of piling work I left while on vacation. Right now, the book in my bag is
Unbearable Lightness of Being
by
Milan Kundera

t

hat's bee

n

egging in my shelf for four years

.
I've tried to read it a couple of times, but it was just too deep for my taste as of the moment. I cannot find my philosophical vibe. I should wait for an appropriate timing for this book. I'm currenly lost in my own book collection, but luckily last week, my colleague sent an email that she is selling her own collection of books, majority of it are romance novels by notable romance writers.
I ended up buying 2 Jude Deveraux for only 120 pesos.
Frankly, I'm not entirely a fan of romance novels because I always taste the formula of it. The endings are practically the same as the passionate exchanges of dialogues and err..fluids just vary in execution.
The plot may be twisted to a certain degree, but it always seems familiar.
Romance writers, for me, just differ themselves from other romance writers on how they
e

xecute lines and character exchanges, their ma
stery on a
certain sett
ing (medieval/contemporary), and how they would gracefully incorporate other aspects such as feminism and/or mystery to the story
.
If they don't have the selling or distinct factor for this, it would just be a bore to read it.
Officemates from previous corporations I've worked for introduced me to this. I was hesitant at first, but when the opportunity was offered to me, I felt no grave reason to decline. A romance expert reader handed me, a non-enthusiastic reader, a copy. I ended up reading
Judith Mcnaught's
Something Wonderful
and lo and behold...I immediately liked it. When I went to the US on that same year, I brought other
Judith
McNaught
titles, since hers were difficult to acquire in local bookstores. I remember reading
Whitney My love
in a coffee shop in LA while waiting for my friend,
Vanessa So
, from work.
I also like
Judith Deveraux and Catherine Coulter
, who usually adds an element of mystery to her stories. Surprisingly, also on a book bargain in one of the biggest malls, I had a game with Tin, a high school friend, to find the book that has the crappiest title. I browsed and fished the double soft bound book of
Josie Litton's
Dream of Me and Believe in Me.
I thought, nothing gets crappier than that, and for a dare, I bought it.
In the end I won. But when I actually read the two books, I was thrown in the Anglo-Saxon era with these characters that are dynamic. I
'm a sucker for medieval era, so this slammed my ego hard.
Josie Litton
is practically "unknown" here and I couldn't find book copies except on Amazon. Since I have a timely trip to the States that time, I checked on the availability and immediately went to
Borders San Francisco
to buy the third installment of the book. As a bonus round, I also bought another fresh trilogy of hers that I'm safekeeping until the right moment comes to me. I must say the title was crappy, but instantly got me to read it.
And you know what they say, do not judge the book by its cover.

*The book Tin and I saw in the mall book fair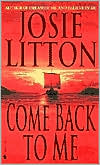 *The third book to complete the trilogy, which I had to get in the States
Again, this year it's all about reading. I have to redeem my crappy 2008 exposure to various literature as I'm keeping this genre-flexible. I just hope I make the right choices this time.