One of my goals this year is to read as much books as possible. Last year started off fine, but ended up to be pathetic as there were months that I didn't get to read anything.
Never again
. Good thing that I've saved enough disposable income and I've successfully cut back some unnecessary food tripping and shopping for health and finance purposes. Now I see to it that at least I buy one book a month to replenish my remaining stocks. Thanks to some few good people, who gave me their books as charity. For the end of January until now, I'm still reading wonderful stories of Reader's Digest Condensed Books that Mitch's mom gave me. I didn't mean to notice that she keeps a stock in her house, when embarrassingly, she gave it all to me. Thanks to that I've got a couple of titles to go and a couple of books to close before I actually start reading my own books that I've lined up for the start of the year.
Last December, before heading off to a friendly dinner, I stopped over at Fully Booked Bonifacio High Street to check out some few titles. The book store was bustling of people and I felt at home. I noticed a new stock line up of
The Guardian
by Nicholas Sparks. I remembered during August of the same year, attending Leslie Buena's wedding, I noticed my friend Caan was reading it. Knowing her, she never reads a book unless it's recommendable. Therefore I was intrigued. I managed to read a chapter and examine the summary that doesn't fall into the hopelessly love-sick categories. I just have this impression of Nicholas Sparks because of his books' film adaptations.
I saw A Walk to Remember, didn't like it. I saw the Notebook once and wouldn't go the extra mile to watch it again.
I believe his material is not my cup of tea, hence it would take a lot of coincidence and interest to get me hooked to his works.
After that weekend, I went back to Fully Booked and asked for a copy, but there was none. It must be that sold out. Hence it must be that good. I decided to wait. The opportunity was ignited in me when I got my
"baby"
at our company Kris Kringle. The person I picked asked for Nicholas Sparks books she hasn't read yet. I went to Power Books Greenbelt and looked for specific titles, but all that's in her list weren't there. As usual, sold out. I ended up giving her a Powerbooks gift card instead.
The following weekend was the dinner night I went to Fully Booked. I saw familiar faces there and even saw Dez, a friend, whom I'll be going to dinner with. She was holding a copy of The Night Watch and was actively recommending it to me. Although interested, I presented to her my catch, The Guardian by Nicholas Sparks. Finally I said, I will get to read my first Nicholas Sparks book. Being an avid eclectic reader, she must have thought that it was weird for me to have never read a single Nicholas Sparks book when his books' film adaptations caused a general stir especially to women. I tried to explain I wasn't your mainstream reader and your typical woman. I observe and explore books at my own style and at my own pace and time.
I believe at that time I was still reading The Lovely Bones by Alice Sebold, so I just put The Guardian with the rest of my "must-to-read" pile of books. After that weekend, I wanted to jump from modern literature to classic literature and tried to read Howard's End. Until the time I switched to murder-mystery of Jeffrey Deaver and Mitch's mom gave me copies of her various Reader's Digest Condensed book.
At the end of the whole waiting and anticipating it didn't turn out exactly as I planned
. The Guardian will not ever be the first book that I will read by Nicholas Sparks. At that time my mood was just right to read a laid back relationship story. Nicholas Sparks' The Guardian will be perfect for that moment, but unfortunately, I completely forgot that I didn't even manage to cover the book with plastic cover, and knowing me, I never read fresh books without any protection at all. (Sounds weird and the idea seems kinky) I decided to settle for the hard bound Reader's Digest books and lo and behold, a title page of one Nicholas Sparks's works covered the first page. It was
A Bend in the Road.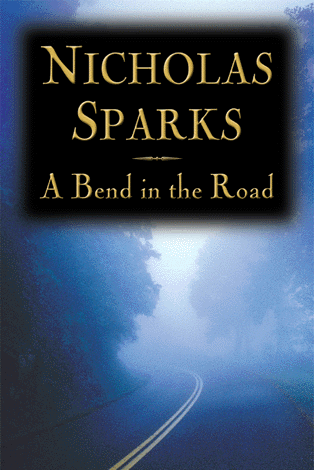 If one would ask me, the story is laid back. Nothing quite special about it, but it didn't hurt reading it either. I believe these stories are what he does best. It's just not my cup of tea, but I'm still pushing through with The Guardian, it might turn my impression upside down.
http://a4.vox.com/6a00e398a6d82f000100e398d149ec0004-500pi
http://images.contentreserve.com/ImageType-100/0017-1/%7BD8082822-BDD2-4FC6-B196-9F104006C741%7DImg100.gif